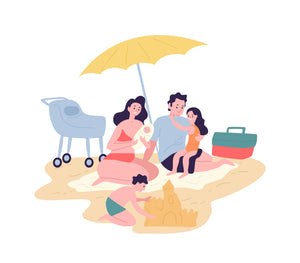 Here Comes Summer!
Here comes summer.
The Australian summer can be harsh for everyone, more so for breastfeeding mothers and their babies. By following some of these tips you and your baby will be able to enjoy a happy and healthy summer.
Stay Hydrated
A big concern for a lot of breastfeeding mothers is whether their baby is staying hydrated in the warmer months. For those babies that are exclusively breastfed this should not be a concern. According to the World Health Organization) WHO) breast milk is more than 80% water. Breastmilk has the perfect balance of water and nutrition giving your baby all that it needs.
In the warmer months you may find smaller and more frequent feeds can help satisfy your baby's thirst. It is vital that the feeding mother ensures that she is staying hydrated. There are different ways to achieve this. In one suggestion from the Australian Breastfeeding Association is to have a glass of water with every feed. Other ways may include your favourite non-caffeinated drink or watery fruits such as watermelon. Most importantly take time to listen to your body and stay hydrated.
Stay Cool
Easier said than done when it's 38°.Wearing light breathable clothing is the best alternative for both you the mother and your baby. A cotton onesie is perfect for your baby. A flowing light fabric top or a summer dress is ideal for a breastfeeding mother. It may seem obvious but if you're planning on going out and about choosing clothing that enables you to feed easily in public is a great idea.
Some mothers may choose to pump ahead of time. This can have two benefits the first being it gives a family member maybe grandma the opportunity to feed the baby and it saves you the mother a sweaty and comfortable feeding session. It's important to remember if you do choose to pump ahead of time you may need to pump for your comfort and to ensure your milk supply is maintained.
Another useful Tip for when you are feeding the babies to wrap them in light weight room such as a muslin this avoids the sticky skin to skin discomfort. A cool damp cloth in your underarm can also help.
Take Cover
In a perfect world we would all live-in air-conditioned comfort. If this is not possible, we can take steps to increase our comfort levels in the heat. One of the easiest ways of doing this is avoiding the midday heat by staying indoors or finding a shady spot. If indoors it is best to ensure that the area is well ventilated.
You may consider going to a relative or friends that has air-conditioning or heading to the shops or cinema. Another way to cool your baby in the extreme heat is to give them a lukewarm bath. When you do venture out it is important to remember sun safety.
It is not recommended that babies under six months old have sunscreen applied. The other sun safety measures, broad brimmed hat and loose-fitting clothing is recommended. If possible, outdoor activities should be kept to early morning or late afternoon.
---