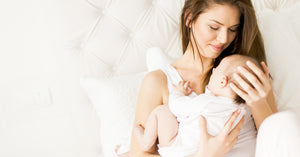 The Best Breastfeeding Accessories Designed For Busy Mums
Being a new mum is an exciting and joyous time for the whole family. Part of that joy comes from adapting to unexpected situations. When a newborn is around, there will always be unexpected situations, especially while breastfeeding.
So whether you are a first-time mother or you are juggling a newborn and toddlers, it's helpful to have reliable and quality breastfeeding accessories. Whether you want to ease sore breasts or stop accidental leaks, Ameda has breastfeeding accessories to help make motherhood that little bit less chaotic.
The best breastfeeding accessory for Nipple Care
While breastfeeding you may experience sore nipples. In some cases, you may be able to soothe sensitive areas of the breast by rubbing a small amount of the expressed breast milk but this is often not enough. If you're looking for something to nurture your nipples which is safe for your baby and yourself, you may benefit from using Lanolin. A naturally-derived balm which has been used during breastfeeding for generations.
What is lanolin?
Lanolin is a pure and gentle balm made from natural ingredients, which has both therapeutic and preventative benefits. Not only is Lanolin safe for babies, but it also is fragrance-free and has a neutral taste. However, when choosing a lanolin based ointment, it's important to look out for nasty additives and preservatives.
Ameda's Triple Zero Lanolin is among the purest forms of Lanolin available and is the only Lanolin product made right here in Australia. It provides soothing comfort while being BPA and alcohol-free. It also doesn't contain any additives or preservatives, so you can rest assured it is 100% safe for both mum and baby.
The most reliable breastfeeding accessory for breast milk leaks
Leaking breast milk at unexpected moments is completely natural. However, it can be embarrassing for some. Whether you're at a work meeting or out with friends, leaking breast milk due to something as simple as not being able to pump at your usual time can feel awkward. Luckily, quality nursing pads will protect your clothing, keeping you dry when those unexpected moments occur.
What to look for in a reliable nursing pad
Nursing pads are among some of the cheapest and most readily available breastfeeding accessories. However, when choosing the right nursing pad, there are a few things you need to consider. To ensure your nursing pads will do the job properly, check that they have the following qualities.
They are highly absorbent.
They are comfortable to wear.
They are thin enough to prevent showing through your clothes.
Ameda's MoistureGuard Disposable Nursing Pads have all these qualities, making them an incredibly reliable product. The MoistureGuard Nursing Pads can hold up to 35 times their weight in liquid, so no matter the size of the leak, you'll always be protected. The highly absorbent pads will also wick moisture away from your skin, helping to keep you dry.
Most importantly the Ameda nursing pads are designed for your comfort. The thin, contoured design with adhesive strips means the pads are incredibly comfortable to wear, will stay in place and won't be visible through your clothes.
Are you a busy mum looking for accessories to ease the stress of unexpected moments? View our range of breastfeeding accessories in our store today. Need some advice to find the best product for you? Contact our team of breastfeeding specialists to discuss our products.
---